40 Thieves SoundSystem

40 Thieves Sound System is a collective of DJ's based in Phnom Penh that is dedicated and passionate about good music, good street art and good positive attitude's in the Cambodian music scene.
Closely linked to Jason McMillan's urban street fashion labels 40 Thieves, Cartelife & Rollin 40's, The Sound System will focus on the music mainly Funk, Soul, Reggae & Hip Hop which we feel needs a lot more representation in this country so we are hosting special parties and events at choice quality interesting venues in the capital Phnom Penh and around SE Asia.
At our events there will also be a chance to buy 40 Thieves merchandise which is all highly limited premium quality urban street wear and there will always free promo items given away.
The collective mainly consists of DJ's Alan Ritchie & DJ Bree but we aim to always involve like minded music lovers that have a talent for dropping good quality non mainstream music and having special guests to play at our events on a regular basis. We are currently working with Dr Wah Wah, Kimchi Collective & Lady Bluesabelle who are all establish artists and music lovers that are pushing the music scene in Cambodia is a good positive direction.
40 Thieves Sound System also has a brand new 2 hour show on Ubradio.net hosted by Alan Ritchie & DJ Bree. Every 3rd Sunday of the month this will be dedicated to Funk Soul, Reggae, Hip Hop, Rare Groove & Boogie with special guest DJ's invited down to drop some of their favorite sounds every month.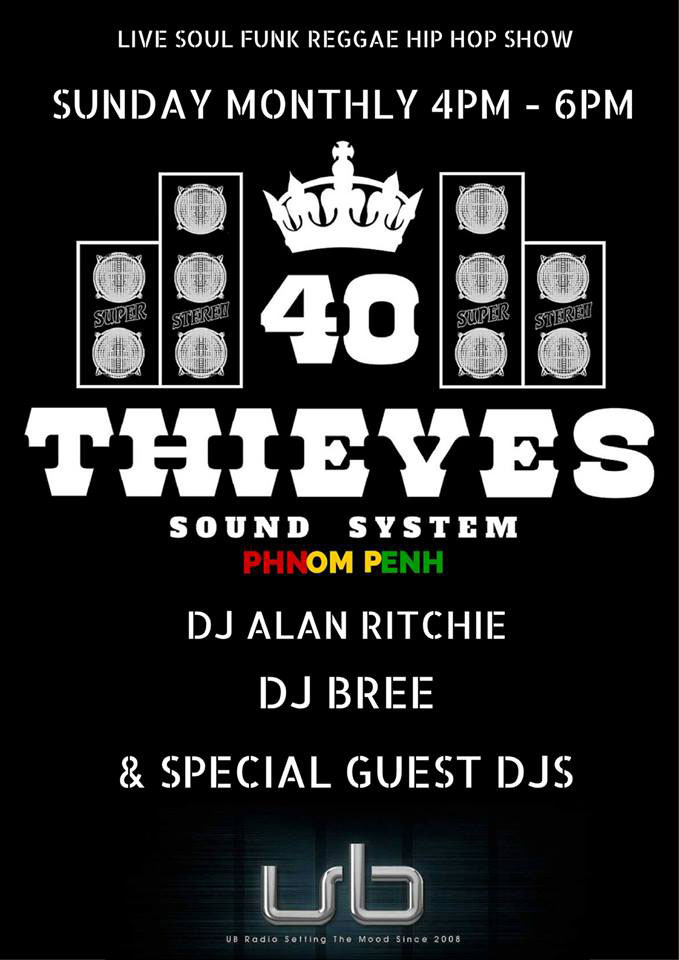 The show will also be a platform to promote special upcoming 40 Thieves Sound system parties and events and help spread the word about good music and art and help promote like minded artists and organizations in Phnom Penh and Cambodia.

https://www.facebook.com/groups/799944900061506/


1. Ali Baba – John Holt

2. Sam & Dave – Hold On I'm Comin'

3.Zapp & Roger – More Bounce To The Ounce

40 Thieves SoundSystem