Airfix Twin
Airfix Twin is the production and DJ moniker for Iain Donnelly, a veteran of the UK scene. Starting his DJ'ing in the 1980s, he played at some of Scotland's major indie clubs and supported bands such as Paris Angels, Inspiral Carpets and New Fast Automatic Daffodils.
Gradually making the move over to dance music at the end of the 1980s, he became part of the burgeoning Scottish free party and techno scene and has played with legends of the scene such as Pussypower, Desert Storm and Spiral Tribe at major outdoor events as well as being part of Glasgow's 'Breach of the Peace' sound system.
Over the course of the 1990s, Iain continued to play free events and club nights and has played alongside everyone from Dave Clarke to Hardfloor, the latter of which he describes as the 'gig of my life'.
The noughties saw a brief calming down in his DJ activities as family life and work claimed most of his time, but since 2008 he has been producing quirky leftfield electronica as both The Arthur Montford Experience and, more recently, as Airfix Twin.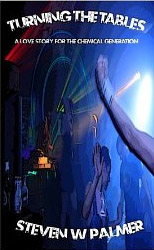 He has been concentrating on finishing his first full novel since moving to Cambodia – Turning the Tables  (buy it here) is a techno soaked nostalgia trip to the heady days of the mid 90s scene (written as Steven W Palmer).
Recently he's played out at several events in Sihanoukville, bringing his own blend of funky classic techno, tech-house and acid to the beaches and venues. He plans to move to Phnom Penh in the coming months
Though his first loves are techno and acid, he is also a highly proficient chill out and dub dj, and has played at Brixton Academy with Megadog.
His major influences just now are Andy Weatherall and Daniel Avery.

https://www.facebook.com/profile.php?id=100008341240728&
DJ Sequence


1. Daniel Avery – Free Floating (Matt Walsh Remix)

2. Simian Mobile Disco & Roman Flügel – Hachinoko

3.Lord Of The Isles – Co2o

Airfix twin