Airfix Twin
Airfix Twin is the production and DJ moniker for Iain Donnelly, a veteran of the UK scene who has been based in Cambodia for the last 7 years.
Starting his DJ'ing in the 1980s, he played at some of Scotland's major indie clubs and supported bands such as Paris Angels, Inspiral Carpets and New Fast Automatic Daffodils, as well as DJ support for legendary acts such as Aswad and Misty in Roots.
Gradually making the move over to dance music at the end of the 1980s, he became part of the burgeoning Scottish free party and techno scene and has played with legends of the scene such as Pussypower, Desert Storm, and Spiral Tribe at major outdoor events as well as being part of Glasgow's 'Breach of the Peace' sound system.
Over the course of the 1990s, Iain continued to play free events and club nights and has played alongside everyone from Dave Clarke to Hardfloor, the latter of which he describes as the 'gig of my life'.
Since 2008, he has been producing quirky leftfield electronica as both The Arthur Montford Experience and, more recently, as Airfix Twin.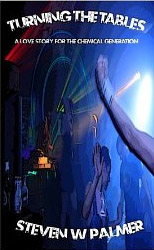 He is a full-time writer and editor with 4 novels to his credit (3 of which are set in Cambodia) and is currently working on both is 5th and 6th novels. His novella – Turning the Tables  (buy it here) is a techno soaked nostalgia trip to the heady days of the mid-90s scene (written as Steven W Palmer).
Iain is also part of recently formed dub crew, Tuff Bass Collective.

https://www.facebook.com/profile.php?id=100008341240728&
DJ Sequence


1. Daniel Avery – Free Floating (Matt Walsh Remix)

2. Simian Mobile Disco & Roman Flügel – Hachinoko

3.Lord Of The Isles – Co2o

Airfix twin