CUBIK▸▸ COUNTDOWN INTO 2022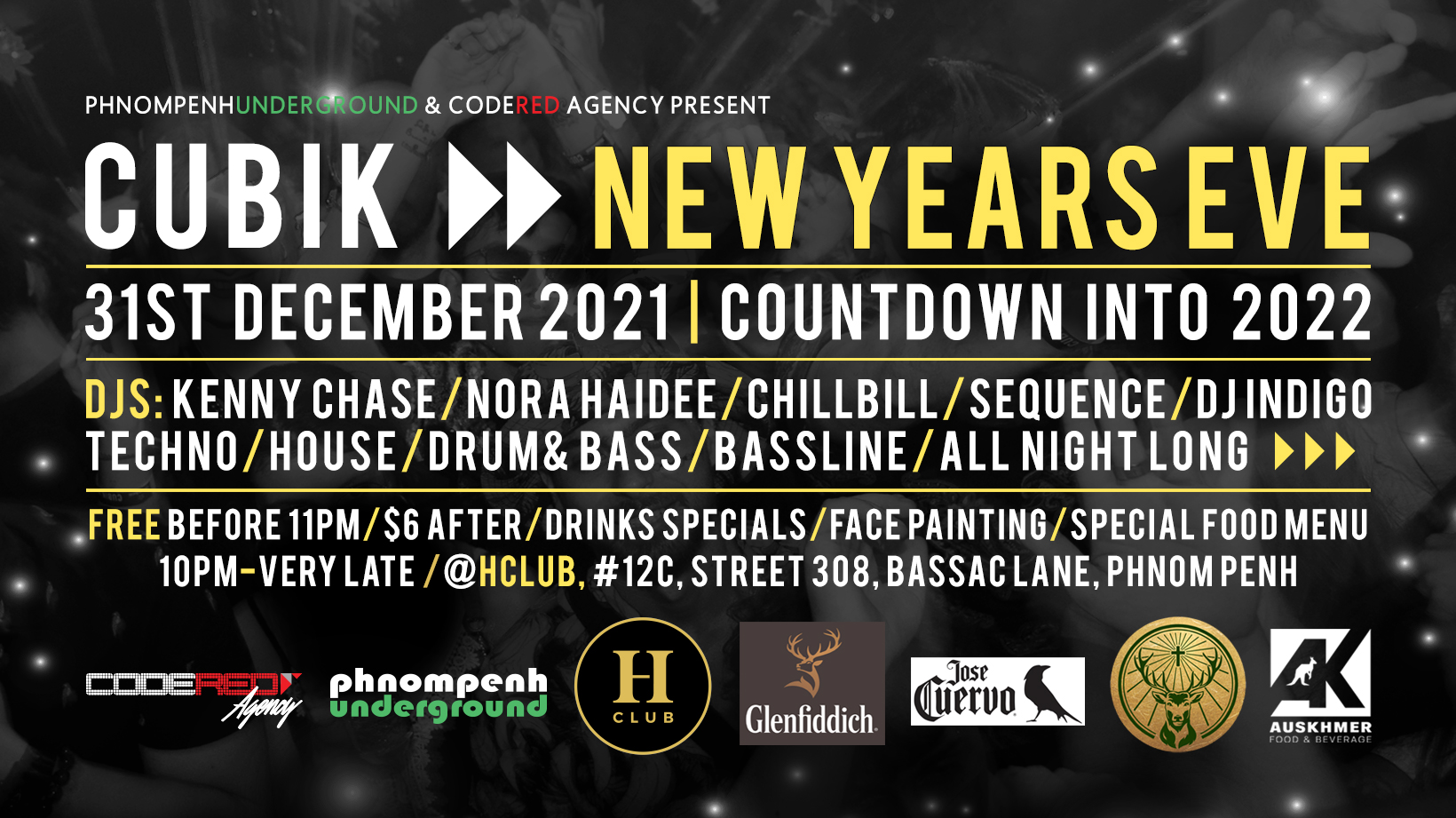 Phnom Penh Underground & CODE RED Agency  & HClub present::
CUBIK▸▸ COUNTDOWN INTO 2022
DJs : Kenny Chase (HYPELAB)/ Nora Haidee / ChillBill/ DJ INDIGO (HClub ) / DJ Sequence (Phnom Penh Underground / CUBIK▸▸resident)
A very special party to banish 2021 and bring us into a new year and a new, better future'
▸31st December 2021 / 10PM – very late
▸@HClub, #12С St 308, Bassac Lane, Phnom Penh
▸FREE ENTRY BEFORE 11 / $6 AFTER
▸HOUSE/TECHNO/DRUM & BASS ALL NIGHT LONG
What a year 2021 has been! The world and Cambodia has been under a state of lockdown for much of the past 12 months and proper parties are something that we were only able to dream about…
However, it look like Cambodia is getting back to some form of normality and, with that in mind, we've decided to throw a MASSIVE New Year's Eve party to banish the bad vibes of 2021 and bring you wonderful CUBIK▸▸ people into a better year in 2022!
We're super-happy to return to the awesome HClub for what will be the only night of its kind in Phnom Penh on New Year's Eve.
For our special NYE CUBIK▸▸ we are definitely B.A.C.K with a bang with an amazing selection of DJs to transport you into the further reaches of the galaxy, spinning the very best in Techno, House and Drum&Bass.
Once again, we continue on our quest to bring you the best of the Phnom Penh underground scene – your deck technicians for the night, taking you onto a journey into another dimension are:
Kenny Chase
(HYPELAB) – one of the rising stars of the new Khmer underground movement
The wonderful Miss
Nora Haidee
(Malaysia) is guaranteed to make the dancefloor explode
On his CUBIK Debut, we're thrilled to bring the superb
ChillBill
Joining our 3 guest stars will be CUBIK▸▸ Resident
DJ Sequence
(Phnom Penh Underground) as well as HClub's own
DJ Indigo
.
If you've ever been to one of our parties before you can expect music, atmosphere and a party like nowhere else in town… Proper Party Music for Proper Party People.
So come and join us for our ritual to banish 2021- entry is free before 11pm and just $6 after with drinks specials all night.
All we ask is you bring yourselves, your dancing shoes and your very good vibes and dance the night away to some of the best music you'll ever hear!
SUPPORT YOUR LOCAL UNDERGROUND
Many thanks to our friends at Glenfiddich/ Jose Cuervo/ Jägermeister/ AusKhmer for their kind support of the event
*Please note that in order to keep to health and safety guidelines, Vaccination cards and temperatures will be checked on entry. All relevant Government safety measures will be strictly observed for your safety and wellbeing.

https://www.facebook.com/events/4586187941416494/
Location : HClub, #12С St 308, Bassac Lane, Phnom Penh