CUBIK ▸▸1st Birthday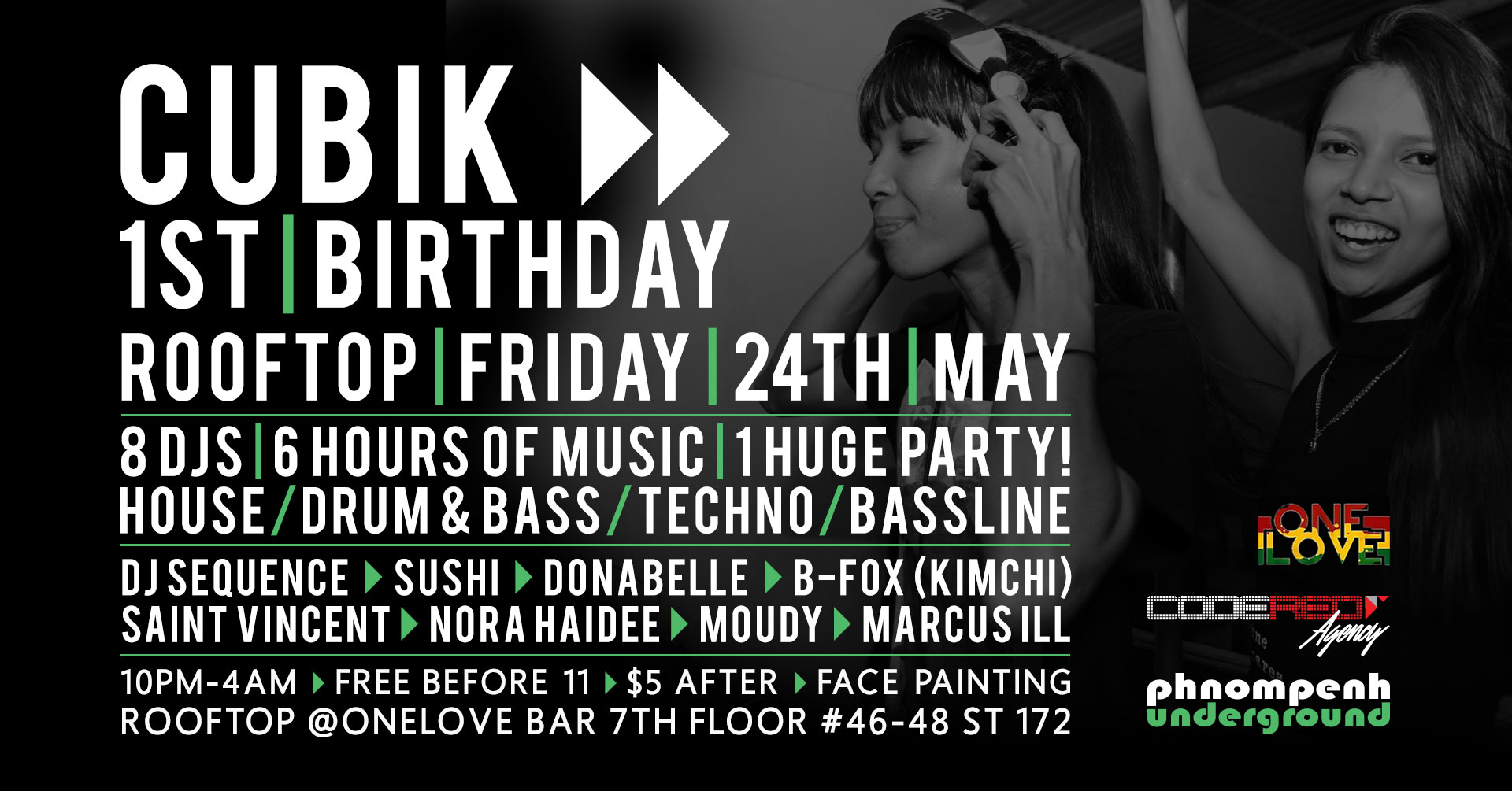 Since its birth in May 2018, CUBIK▸▸ has made its reputation as Phnom Penh's premier Underground party, with monthly events at RiverHouse (R.I.P), Pontoon and now our new home, the amazing, unique Rooftop!
Our April CUBIK smashed it!
To celebrate our 1st Birthday, we'd thought we'd go for broke and invite 8 of the best DJs in the city to represent their styles – be it House, Techno, Drum and Bass
So, for this very special party we're proud to present:
Sushi – Donabelle – Saint Vincent – MOUDY- B-Fox ( Kimchi Collective) – Nora Haidee – Marcus iLL alongside our resident DJ Sequence ( Phnom Penh Underground)
We'll be taking over the Rooftop with mindblowing visuals and lighting, a banging sound system and the best vibes in the city. If you've ever been to one of our parties before you can expect music, atmosphere and a party like nowhere else in town. Proper Party Music for Proper Party People!
CUBIK ▸▸Marching to the beat of a different drummer…
You are now entering a non-commercial zone!
many thanks to Andy and MOUDY for the video

Posted by Phnom Penh Underground on Tuesday, April 30, 2019
,
As you'll know from our last events, the Rooftop has had a massive refurbishment (including a canopy to keep off the rain plus a state of the art sound system). For this month, we've added roof fans to keep it nice and cool as well as more toilets!
Our amazing face-painters Pidor Ham and Dalen Vong will be in attendance to make you look even better (if such a thing were possible!)
So come and join us for CUBIK – entry is free before 11pm and just $5 after with drinks specials all night – all we ask is you bring yourselves, your dancing shoes and dance the night away to some of the best music you'll ever hear!
❤SUPPORT YOUR LOCAL UNDERGROUND❤

https://www.facebook.com/events/1361214077355179/
Location : The Rooftop, 7th Floor, One Love, 46-48 St 172, Phnom Penh
Directions: Opposite Pontoon, in the building above the Me Mates Bar, take the lift to the 5th floor and follow the directions all the way up to the rooftop terrace – mind your head on the entrance!
Cubik ▸▸Rooftop