Golden Crew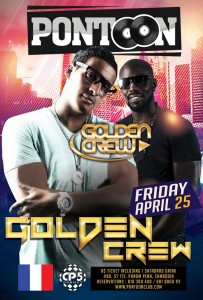 In spite of their youth DJ MOH'H & DJ FANS-T have quite a past behind them. The story starts with two neighborhood kids, going to the same school and sharing the same love for music. They started making music together in 1998 and quickly set out to prove themselves alongside the talented DJ LAM-C (RIP).
GOLDEN CREW 's musical influences includes everything that they have listened to and been inspired by since their childhood, from Prince to Afrika Bambaataa, from Shalamar to Sean Paul: funk, r'n'b, house, ragga & hip hop. The combination of these influences and years of ongoing musical experimentation are apparent today in their productions and their club appearances: pure groove, no hype, no frills:
On the production side, GOLDEN CREW is extremely active.
They have produced 19 volumes of mixtape (France, Belgium, Switzerland and further abroad).
GOLDEN CREW have also released 4 Party Break vinyls entitled Golden Break.
In 2007, they released with Wagram Music the compilation « Rap & R'n'B Mix » which features the track they produced with K-reen « Telle que je suis », and in 2008 they released their 1st song « Dance all night ».

https://www.facebook.com/events/235088570015448
Location: Pontoon, 80# STREET 172, Phnom Penh
[mappress mapid="6″]
GOLDEN CREW