HRBR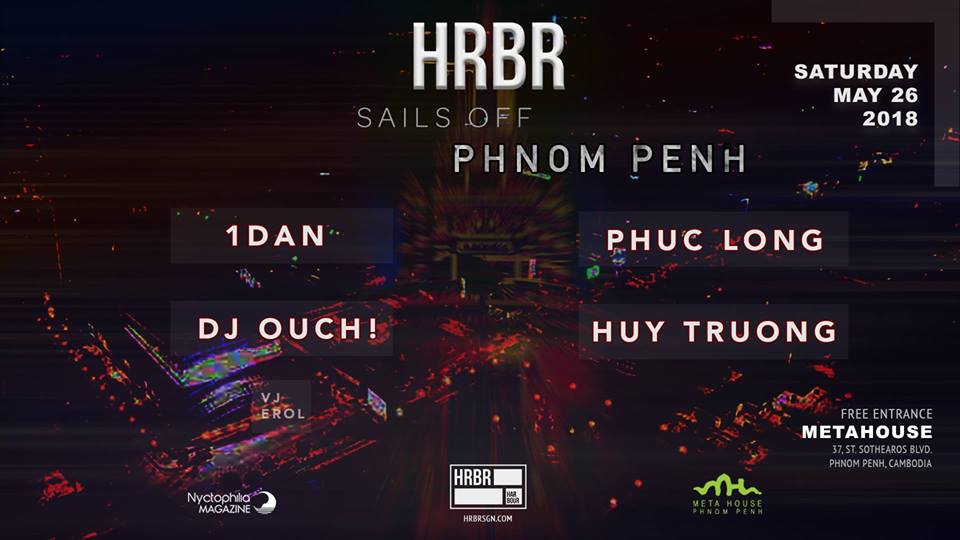 All hands on deck for the HRBR Crew – HRBR SAILS OFF – a series of overseas musical adventures.
This first edition HRBR embarks on a crazy night in META HOUSE, Phnom Penh in the Kingdom of Cambodia.
⎈ HRBR / Harbour
"for the love of playing their sets in a new environment, merging two scenes into one and building a better regional community."
https://soundcloud.com/hrbr-recordings
https://hrbrsgn.bandcamp.com/
https://www.mixcloud.com/hrbrsgn/
▃▃▃▃▃▃▃▃▃▃▃▃▃▃▃▃▃▃
⎈ PHUC LONG
Our resident Sven Vath – Chris Wolter Heartbeat Saigon aka Phuc Long, hails from Hanse City, Rostock. After 7 years in Vietnam he has been integral part of the Vietnamese techno scene and is the founding Papa of Heart Beat Saigon and HRBR. He debuted as a DJ back in 2004 and Vietnam saw him first set in during the Hanoi Soundstuff Festival.
Phuc Long's release on HRBR
https://hrbrsgn.bandcamp.com/album/phuc-long-verstrahlt-ep-hrbr-002
▃▃▃▃▃▃▃▃▃▃▃▃▃▃▃▃▃▃
⎈ DJ OUCH!
Hailing from Neuchâtel, Switzerland, Dj Ouch started to play records in the late 90s. After years spinning D&B, funk and house in Switzerland, Spain and France he is now a regular at Observatory, Lighthouse and Broma's early hours.
He recently joined the Heart Beat and HRBR gang and is running the events of HRBR together with B.A.X.
Harbour Balcony Podcast #002 by Ouch!
https://soundcloud.com/hrbr-recordings/harbour-balcony-podcast-presents-dj-ouch-abfahrt-and-peace-170325
https://soundcloud.com/dj-ouch1
▃▃▃▃▃▃▃▃▃▃▃▃▃▃▃▃▃▃
⎈ HUY TRUONG
Huy Truong discovered and started playing DJs at the age of 17 with a variety of genres. In 2017, he joined HRBR and had the opportunity to get more exposure to House music, which has shaped his own Minimal style. In addition, he also participated in Techno music events held by Heart Beat and since then this genre also accompanied him in his set. As the youngest brother of HRBR, Huy Truong manages himself as a "Minimalist", promises to keep boiling the dancefloor with his Minimal/Deep Techno style.
Huy Truong's appearance at the infamous Balcony Podcasthttps://www.mixcloud.com/hrbrsgn/hrbr-balcony-podcast-005-with-huy-truong/
https://www.mixcloud.com/HuyTruongOfficial/
▃▃▃▃▃▃▃▃▃▃▃▃▃▃▃▃▃▃
⎈ 1DAN
After many years of honing his sound and learning the craft, 1DAN's first release appeared in 2011 on respected UK underground deep house label; Atmospheric Existence Recordings. This was followed up by a rash of releases on the Maltese label Batti Batti with support from DJ's such as Jus-Ed, Huxley, Jay Tripwire, Fred P and many others.
Aside from solo studio work, collaborations with Bittersuite's Jon 'Griffin' Gray have resulted in a clutch of releases under their Tales Ov Rossi guise, returning to Atmospheric Existence Rec with the latest release marking the launch of UK label DeepSystems. Close working relationships continued with 1DAN remixing the latest Bittersuite track, These Thoughts for UK based outfit, Situationism.
When in the booth, 1DAN's hybrid DJ style moves from blistering techno to obscure deep house, providing listeners with unique selections that challenge the mind and feet.
1DAN's appearance at HRBR Balcony Podcast
— https://soundcloud.com/hrbr-recordings/hrbr-balcony-podcast-003-with-1dan
1DAN on SoundCloud
— https://soundcloud.com/1-dan
▃▃▃▃▃▃▃▃▃▃▃▃▃▃▃▃▃▃
Expect more bilateral music exchanges, because only trade is boring.. music is the future!

https://www.facebook.com/events/190488358417055
Location : MetaHouse, 37 Sothearos Boulevard
Sound of Berlin