Neudrop @Pulse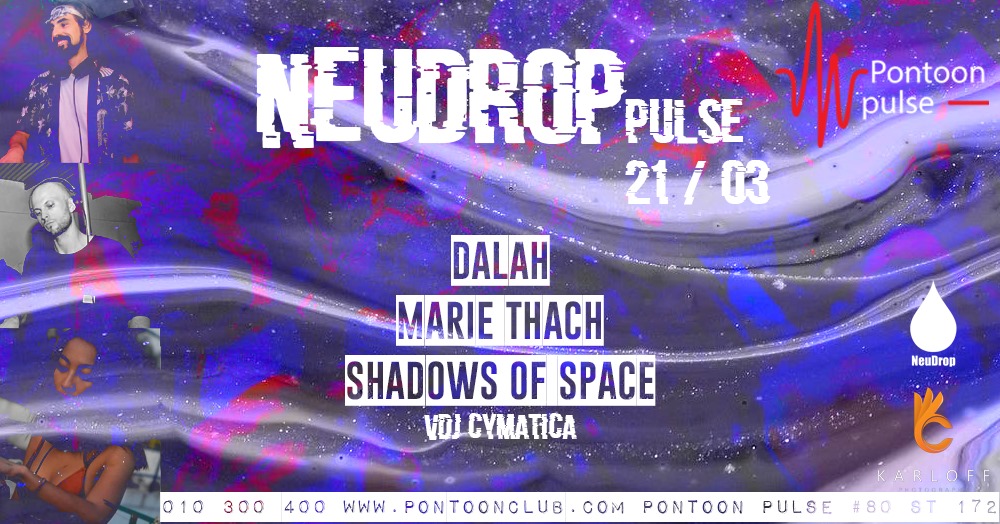 NeuDrop collective will perform live at Pontoon Pulse, bringing the best of tech house & techno to the dance floor of Pontoon Pulse!
—————————————————————————–
DALAH
Originally from Toulouse, DALAH performed on various stages, from Marseille to Toulouse.
Now a member of the NeuDrop collective based in Phnom Penh, he continues his musical way in Cambodia.
In a short time DALAH has become a regular face at Phnom Penh's parties and can be regularly found playing his soul-inspiring mixes at Party Patio and Pontoon Pulse!
His musical tastes immerse you in a spiritual ambiance which will never cease to surprise you, his attractions for the deep-house and tech-house will take you to the end of the night!
His guideline remains the same : get high and get you high!
—————————————————————————–
MARIE THACH
Marie Thach is a young artist with many talents and one of the fastest growing DJs in Phnom Penh.
Her style is unique, having been inspired by techno music and house.
—————————————————————————–
SHADOWS OF SPACE
Member of NeuDrop Collective, he has played as various alter egos, shadows of space derives from a self-reflective process in which the central objective is to integrate the shadow within…
By exploring & setting the tone with deep, hypnotic, & seductive frequencies, shadows of space creates a space where one can dive deep into oneself with the help of Techno & House music.
He's going to immerse you in his deep and bewitching universe!
—————————————————————————–
CymaticA
From Manchester UK, CymaticA brings a huge collection of high-quality visualisations from all across the spectrum, bringing an extra dimension to the Phnom Penh party scene!
—————————————————————————–

https://www.facebook.com/events/1028331557566925
Location : Pontoon Pulse, 80# STREET 172.
Phnom Penh Clubs