New Vision Festival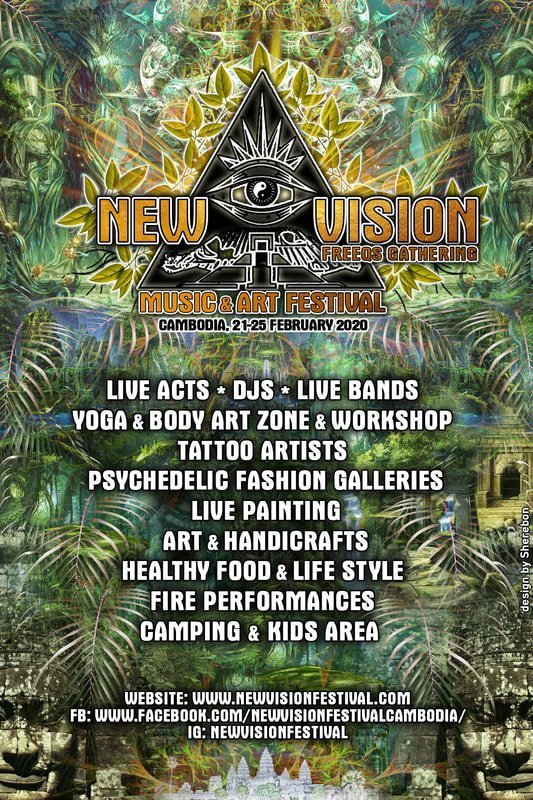 The organisers of this extravaganza are seeking to create a friendly setting to convey their message through ART, MUSIC, Body arts, Healthy Lifestyle and entertainment
"NEW VISION FESTIVAL ", a four-day event, will be held at the (location) , Chumkiri district near Kampot, Cambodia, February 2020 !!
This Eco friendly music art festival is founded on 9 pillars – Art, Music, Family, Farm to Feasts, Talks & Workshops, Yoga / Tattoo conventions, healthy food and life style – aiming to preserve a positive and motivational community in a new location, to develop and keep the vibe of this culture alive for our future generations!
This is wholly an international cooperative project without focus on specific country, culture or creed.
It's all about Psy trance without borders.
MAIN STAGE
Live Act:
ANIMALIEN (Believe Lab/Mexico)

BRAINGINEERS (Boom Shanka Music/Switzerland)

CRIOK SHATTER (Believe Lab/Mexico)

DAKSINAMURTI (Sangoma Rec/Germany)

DIKSHA (Sangoma Rec/Brazil)

DSOMPA (Believe Lab/Germany)

HELBER GUN Blacklite Rec/Mexico)

JUMPSTREET (Looney Moon Records/Switzerland)

JUMPSTREET v/s RUGRATS (Looney Moon Records/Switzerland)
http://bit.do/groovebros
MEGALOPSY (Dark Prisma Rec/Argentina)

OKSHA (Psynon Rec/Mexico)

PANTOMIMAN (Looney Moon Rec/Russia)

RADIKAL MOODZ (Looney Moon Rec/France)

RUGRATS (Looney Moon Records/Switzerland)

SECTION8 (Looney Moon Records/Australia)

SHRED'ER (Looney Moon Records/France)

STEREOXIDE (Blacklite Rec/Switzerland)

SYNKRONIC (Looney Moon Rec/Brazil)

VENUS (Ayauma Rec/Brazil) https://soundcloud.com/venuslive
XABANGA (Digital Shaman Rec/South Africa) https://soundcloud.com/xabanga
YABBA DABBA (Sangoma Rec/France)

YUMI MONONOKE (Kingdom Blasters/France)
https://www.facebook.com/DjaneMononoke/
Dj:
ACID MIND (Paramystical Rec/Italy )
SoundCloud.com/theacidmind
BOOM SHANKAR (Bmss Rec/Germany)

DAIJIRO (Digital block/Japan)
https://www.youtube.com/results?search_query=DJ+DAIJIRO
DAKSI (Sangoma Rec/Germany)

DIGITAL STONE (Uk/Poland)

FOG (Looney Moon Rec/Italy)

FOREST GIRL (Blitz Studio/Russia)
https://www.facebook.com/Forest-Girl-400613683422230/
GANESH (Catalyst Rec/France)

GINO (Sonica Rec/Italy)
https://soundcloud.com/search?q=gino%20sonica
GIUSEPPE (Parvati Rec/Italy)

GOA GAI (Israel/Goa)

GOSHA (Looney Moon Rec/Russia)

HATTA (Grasshopper Rec/Japan)

KIA GOA (Sacred .Shiva Moon/IRN)
https://www.facebook.com/KIAGOA/
MARA (Uroboros Rec/Switzerland)

PAOLO (Goan Mantra Rec/Italy)

PAUL TAYLOR (Looney Moon Rec/Australia)

PHOBOS (Looney Moon Rec/Italy)

PSYKELO (Morphonic Rec/France)

PSYMBIOSIS (Maharetta Rec/Italy)

P.H.B (Chakra planet/France)
www.mixcloud.com/DjPHB
www.soundcloud.com/djphb
RINANEKO (Planet /Planet Chakra Kpg/Madskippers /Jpn)


ROSA VENTURA (Mosaico Rec/Brazil)

RUSTLERFARI (Woo Dog Rec/Germany)
https://soundcloud.com/manuel-rustler
SAIKOT (Epic Tribe/Russia)

SCOTTY (Planet Vuuv/Germany)
https://www.facebook.com/masu.joop
SHEREBON (Purple Hexagon Rec/Russia)

SHIMAH (Reisefieber Rec/Switzerland)
https://m.soundcloud.com/djshimah/exited
SUNGIRL (Reason8 Music/Russia)

TEO (Disco Valley Rec/Greece)

TOMMI PIXAN (Pixan Rec/Italy)

TRYPTALIFE (Pixan Rec/ France)

VODA (H2O Promotion/Russia)
https://m.facebook.com/alexander.voda?pn_ref=info_relation
YPNOTIKA (Sonica Rec/Italy)

YUMI MONONOKE (Morphonic Rec/France)
https://www.facebook.com/DjaneMononoke/
ZHANNET (Russia/Goa)
https://www.facebook.com/Dj-Zhannet-116219161898357/?epa=SEARCH_BOX
ZIG (Magic Phangan/Israel)
https://www.djzig.com/
**MAIN STAGE LINEUP IS CLOSED**
TECH TRANCE STAGE
DIGITALSEX (Russia) SoundCloud https://soundcloud.com/digitalsex_yanaray
SQUARE HEAD (Russia)

Dj :
AGENT(Black Gold Rec/Germany)

ALPHATRANCE (Landmark Rec/France)

BARDAWHEEL(The Network /Lebanon)

D.A.N (Acid Test Rec/UK)

DARAKH (Three Monkeys Family /France/Cambodia)

GAI (Israel)
https://m.facebook.com/Goa-Gai-851278588256937/
HELEN LESNAYA (Blitz Studio/Russia)
https://www.facebook.com/Forest-Girl-400613683422230/
LANCE (Samsara Beach/Uk)

MARAH ARAM (D'art Side /Switzerland)
https://www.facebook.com/dartlaboratory/
NOTORIOUS K (K-Haus Muzik/Latvia)
https://m.soundcloud.com/kenny-kennedy-850865746
PHILIPP BARDEZ (Soupherb/Germany)

PURE HUMAN BEAT (France)

RINANEKO (Madskippers/Japan)

TEKKNO SCHULTZ(K-HAus Muzik/Germany)
https://www.facebook.com/tommyschultz84
ROBI FOG (ITALY)
https://www.facebook.com/robi.fog.7
TOMMI KINAN (Purple Brain,Kinan Projec/Italy )

Chill out stage
Live Act :
ALIEN SYSTEM (Truck Rec/Uk)

Dj :
AKHIRA (Bagoa Rec/Italy)
https://m.mixcloud.com/DeeCrystalSound/
CHERRY BONE (BK Rec/ Russia)
https://drive.google.com/file/d/1fcgxH0JWwNOdDNjIN554cL2OyN2Gh_lU/view
JANNET (Russia)
https://www.facebook.com/Dj-Zhannet-116219161898357/
SANDESH ( Ecstatic Dance/Italy)

RUDHA (Psynopticz Rec/Qatar)

TIPSY GYPSY (Maldives)

https://www.facebook.com/events/431523384061505
Location : Chhumkiry District, Kampot
Cubik ▸▸Rooftop