Wat a Gwaaaan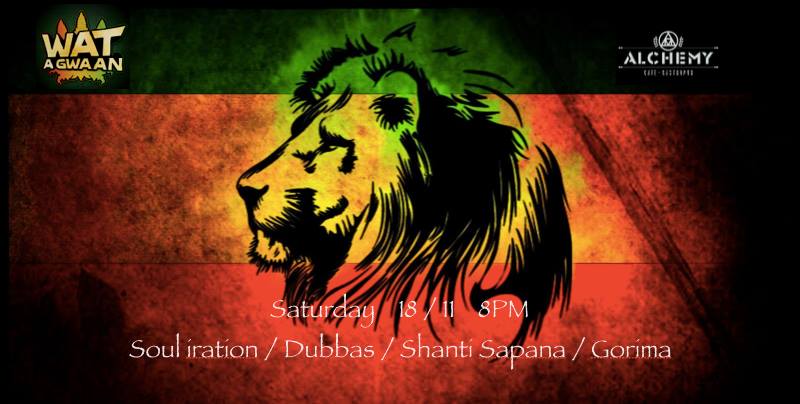 AlchemyGastropub in collaboration with WAT A GWAAN brings you the firstWAT A Gwaaaaaan party!
Wicked Line-up playing Irie tunes for da night!
=> Soul Iration( France) – Freshly arrived in Phnom Penh , Amrane from Soul Iration has been very active in the Reggae Scene since the mid 2000s. From their Radio Show on Radio Boomerang, to many concerts with famous jamaican artists such as Martin Campbell, Mutabaruka, Carl Dawkins ; They also ran a music venue which welcomed artists such as Solo banton, Obf, Big Red, Johnny Osbourne, Saxon Sound, U-Brown, Conscious Sound, Marina P ….. Outernational , Soul Iration has also organised the MEXICO DUB TOUR which is holdimg its 8th edition this year , and is now Ready toRock south east asia with his Selections and Dubplates!
=> Lienj Gorimaa(France) – Selecta , Bassist and producer , Lienj Gorimaa has been in reggae music for more than 15 years ; Founder of Vibratone reggae Band, He also opened the very first Reggae Bar in Phnom Penh a few years ago , and still performs in many places and festival as a wicked selecta !
=> Dubbas(Lebanon) – DJ & Selecta , Abbas aka Dubbas has been in the nightlife industry and reggae music for about 15 years as DJ, Light engineer and promoter , Now based in Phnom Penh , he brings a breath of fresh air to the Phnom Penh music scene with his very versatile sets and a great knowledge of Reggae and Dub music !
=> Shanti_Sapana (Lebanon)- Still New to the Selecting and DJing World, Sarah aka Shanti_Sapana has been collecting " International Conscious music " in an attempt to share the biggest variety of languages in her sets. From The Caribbeans to the middle east where she's from , to Asia where she's now based , Shanti Sapana will take you on a very special tour across the different flavours of the Reggae world

https://www.facebook.com/events/533475300322186/
Location :Alchemy GastroPub #36 Street 123, Phnom Penh, Cambodia

Phnom Penh Club