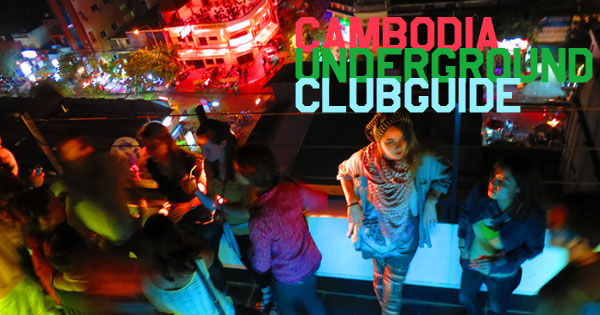 Godamm! That was some weekend we've just had! 13 amazing events over the weekend – loads of quality nights all over the country but the pick of the bunch has to be the outrageous Kimchi Collective night at Code:Red, which has to rank as one of the biggest and best nights that we've seen, well, ever!
Big respects to the Kimchi crew and also to Eddie and all at Code:Red. Please, keep on supporting quality venues like Code:Red – they totally deserve it!
The madness continues this weekend with 10 amazing events for yr clubbing pleasure this weekend (as well as 6 fantastic regular nights).
On a personal note, the Phnom Penh Underground crew are returning to the Charming City after summering in London. Look out for the return of our infamous HighRise night as well as a big, big Phnom Penh Underground 1st Birthday Party at a major venue…more details coming soon!
So lets have a look at this weekend – too many nights to mention here, so we're going to concentrate on the one-off nights – for the full line-up with all the fantastic regular nights, check our events calendar.
Over in Siem Reap, the excellent Edwardowski of the Down to Angkor Collective will be spinning the finest in TechHouse, House and Techno at the Soul Train Bar. As always, very highly recommended….
https://www.facebook.com/events/1516251801965645/

Meanwhile, over at the RiverHouse Lounge, Tim Coates and the man who only needs one name, Phil,will be providing a  "sexy saxophone sound and some sensual electro laid back beats" at Saxulaism..Gosh!
https://www.facebook.com/events/298401860369571

Kick off Friday by getting Jacked with the wildman of Phnom Penh DJs, Wez_T…He'll be spinning the very best in Minimal Tech and TechHouse over at the awesome new Beat Club…
https://www.facebook.com/events/350604098454003

If you fancy getting deep down and funky, then make sure you check out Oga Boogie at CodeRed. The rhyming duo of DJ Bree and RackyZ will be pumping out Afro Beat, R&B, Dancefloor Funk and Pimpin Soul all night long.
https://www.facebook.com/events/515034635298936
One for all the flouro massive – Goa is a state of mind brings the sounds of PsyTrance to Phnom Penh. Mr Brown alongside Oggy, Jo & Nick will be bringing the dark banging Goa and Psy Trance to the MetaHouse!
https://www.facebook.com/events/289864641210123

Big night on Saturday….kick off things down at the NagaHouse in sleepy Kampot with some Cosmic Funk down by the riverside courtesy of House of Love fan (we're just guessing..) DJ ShineOn.
https://www.facebook.com/events/390997971062530
Fancy getting Knee Deep with a couple of Phnom Penh's top hellraisers? Then join those debonair fellows danbeck and Simon C Vent as they wow the ladies with the best in house, techno, disco and electro.
https://www.facebook.com/events/1512110655703110

Meanwhile over in Kampot again, there's an awesome looking Golden Era party with performances by Cambodian Space Project & The Spacettes and DJ Mute Speaker spinning vinyl late into the night!
https://www.facebook.com/events/314400808747201/

Urban Bass returns to MetaHouse… DJ Alan Ritchie , DJ Bree & MC Kaztet D & special guest danbeck will be smashing the very best in BASS , be that Electro Bass, Drum n Bass, Dubstep, Bassline, Glitch & Grime….Awesome!
https://www.facebook.com/events/1588504658040200
Get ready for some Saturday Night Fever at Pontoon Pulse, where Jack Malipan and DJ Flo will be joined by the excellent Felix Moreno bringing the deepest House and Techno flavours of Berlin and Stuttgart. Nice!
https://www.facebook.com/events/361071490711695
Finally over at The Beat, the very talented Rob Bianche will be rocking the wheels of steel with house, deep house, techno & even some DnB (we need more DnB in Phnom Penh!)
https://www.facebook.com/events/822869304400130
Loads of nights already planned for Halloween! Firstly theres a Halloween Party @ Top Banana with the excellent Simon C Vent spinning some terrifying Tech House delights!
https://www.facebook.com/events/1502591143323012

Demonism has Bluesabelle, Shaman, Rob Bianche, Weng Wai, Donabelle, Simon C Vent, Dr Wah Wah,Low Renz all combing in a ghoulish melody over 3 floors of madness…
https://www.facebook.com/events/743955335676229/
The Laundry Bar is hosting that gruesome twosome, DJ Vampiredowski and DJ ZombiePossum alongside Steve "Mad" Madd on sax for a Halloween Graduation…be afraid….be very afraid
https://www.facebook.com/events/715559501846330
Another gruesome twosome, Sir Alan Ritchie & DJ Shaman will be Pulsing in the Dark at, you guessed it, Pontoon Pulse. Expect nothing less than the very best in House and Techno from these two….
https://www.facebook.com/events/1516334118619466

Meanwhile over at Harem Lounge, join Tim Coates, Nora Haidee, St Vincent and LuCas for some terrifying tunes! Free Entrance if you're wearing Halloween Costume….Sounds positively ghoulish…
https://www.facebook.com/events/282673901927314
Finally, on the 1st of November, get ready to get spooked at NagaWeen over at NagaHouse, Kampot for some Horrific Happenings with DJ Kdam, ShineOn, Mute Speaker and GesusOne…
https://www.facebook.com/events/791588657569549
Woo! What a weekend – so many awesome events! As I said at the top, loads of great events happening this weekend – for more details, check our events calendar and remember – keep it underground
PS, we have to big up our Soundcloud Page – we've got 46 mixes from the cream of Cambodia's DJ talent with more being added every week (Look out for mixes from Lefty Stryker ,DJ Sequence and a guest mix from Edouard Von Shaeke coming in the very near future!). We just reached 5000 plays – it started off really slowly, but we're now averaging almost 1000 plays a month – not bad for little old Phnom Penh!
Please keep on supporting the page and also make sure that you support everyone who's promoting amazing nights in Cambodia. We've got a fantastic, growing scene at the moment but without your continued support, its nothing…so keep the faith!
Cover image – HighRise@DuskTillDawn. Picture taken by Jess Barr

Cambodia Underground Club Guide 23/10/14