Lets do this thing. We had another fantastico weekend of clubbing last week – the highlight was the opening of Code Red which promises great things for the future (pictures here).
We also heard good reports from Kampot where the Wat a Gwaan crew woke up the neighbours with some serious tuneage
Ok, so lets have a look at this weekend – too many nights to fully mention here, so just the highlights – for the full line-up, check our events calendar
Intime is a new night that's gonna be happening weekly as well. DJ Wez_T will be supplying some smooth house flavours alongside guests -this week he's got the ubiquitous Ricardo spinning on the beautiful Terrace. (https://www.facebook.com/events/586883221389960/)
Make sure you don't miss the opening of a brand new weekly night from DJ Jack Malipan at Pontoon Pulse. No Problem Disco promises to celebrate "the funkier flavours of House as it blends with Disco glitter, sweet Soul and Latin fiesta". Looks very nice! (http://www.facebook.com/NoProblemDiscoPP)
If reggae, dub and roots is your thing, then check out the Kingston Clash, where DJ KNSTK will be spinning the finest in roots rhythms in the irie setting of the MetaHouse. (https://www.facebook.com/events/252343851600581/)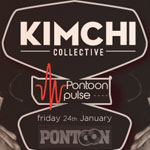 On Friday, The Kimchi Collective will be taking over (in a peaceful way) Pontoon Pulse (the new name for Pontoon Bistro). Expect the usual blend of party stompers, sexy people and random acts of kindness! (https://www.facebook.com/events/491842814257701/)
Also at Pontoon – but in the main room – for all you HipHop Heads, check out DJs Nas and Shine from France who will be laying down all kinds of HipHop flavas…Rumour has it that if you say the magic password, you get free entry…(https://www.facebook.com/Pontoon)
DJ Ricardo must be having a nice holiday in Cambodia – he's playing again at Code Red, alongside local superstars Wes T and Flo (Dancin' Mantis). Its free entry as well! (https://www.facebook.com/events/1437824826450809/)
And here he is again! The DJing workhouse Ricardo will be spinning vinyl only at Vinyl Mania alongside
Dr. Wah Wah  and Nicomatic. Remember – no CDs, no laptops – just vinyl magic (https://www.facebook.com/events/252343851600581/)
Meanwhile, at the Terrace, the ever excellent DJ StrangeFruit, will take you on a musical trip thru House, Techno and beyond…no big name DJs, just consistently excellent music. (https://www.facebook.com/events/276685735817389/)
Saturday is shaping up to be a clash of the titans….
Our pick has to be HighRise at the Terrace. Playing the best in Drum & Bass/TechHouse are 3 of Phnom Penh's top underground DJs – DJ Sequence (Phnom Penh Underground), danbeck (Kimchi Collective) and Simon C Vent (Drop Dead Disco) on the amazing rooftop with 360º views of the city. (https://www.facebook.com/events/683474791697629/)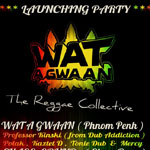 Meanwhile, if reggae is more your thang then check out the Wat A Gwaan crew who are getting irie down at the Slur Bar with Prof Kinski (Dub Addiction), Polaak, Tonle Dub and Mercy alongside Chass Sound from Siem Reap. (https://www.facebook.com/events/329916927151227/)
Finally, for all the abstract headz in the house, we have to recommend Swagger at MetaHouse. The Phatt Controller, Andy Freak, Chris Bradbury spin Beats & Breaks while Ebauche vs Warren Daly spin ambient alongside live art (https://www.facebook.com/events/782817478399003/)
Well, if you have any energy after that lot , looking towards next weekend and beyond, the calendar's full of amazing events. As always, please let me know about underground events in PP, Siem Reap, Sihanoukville, Kampot and beyond via our Facebook page or the website.
3 upcoming events to look out for:
Code Red starts to bring in some big names, starting with Leeroy Thornhill (ex Prodigy) on the 31st. He'll be playing a "mash up of breaks n electro style toons, using plenty of familiar hooks, with a good old skool feel. Heavy on the electro edge and full of funk that rocks the dancefloor." (https://www.facebook.com/events/639626979431041/)
On the 1st of Feb, look out for WILD in the amazing surroundings of the soon to be destroyed Riverside Hotel. House and Techno is the order of the day with a host of DJs including Ricardo, Alan Ritchie and many more in 2 rooms. Looks like it will be awesome…(https://www.facebook.com/events/721277174583804)
Finally, on Valentines Day (Feb 14th), check out the SunBodia Boat Party – good vibes, cool people, an amazing sunset and, of course the best in House, Techno and Techhouse from Alan Ritchie ,DJ Donabelle and DJ Sequence (House set). Should be funky. (https://www.facebook.com/events/250593925106845)
As I said at the top, loads of great events happening this weekend – for more details, check our events calendar and remember – keep it underground
PS – Something for your weekend….an awesome mix – not from some dodgy "international DJ" but from one of Phnom Penh's (via London and Vietnam) finest….Mr Alan Ritchie, courtesy of Code Cambodia

Alan Ritchie 006 – Code Club Cambodia by Codeclubasia on Mixcloud
Front image – KaoTek@ShowBox/Feature image – danbeck@MetaHouse
Cambodian Underground club guide 23rd Jan 2014