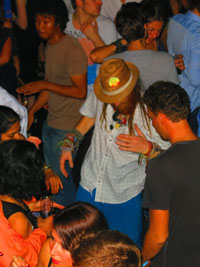 Last weekend was a mega weekend with so many great events – big hitters were HighRise (pix here), Wat a Gwaan, Code and Swagger.
The fun continues this week – looks like we're seeing an explosion in the scene with more quality nights. Lets remember tho that the important thing is the quality not the quantity…..
Ok, so lets have a look at this weekend – too many nights to mention here, so just the highlights – for the full line-up, check our events calendar
2 great regular nights to mention for thursday.. at Intime, DJ Wez_T will be supplying some smooth house flavours alongside guests -this week he's got the ubiquitous Ricardo spinning on the beautiful Terrace. (https://www.facebook.com/events/586883221389960/)
DJ Jack Malipan at will be spinning again at Pontoon Pulse. No Problem Disco promises to celebrate "the funkier flavours of House as it blends with Disco glitter, sweet Soul and Latin fiesta". Looks very nice! (http://www.facebook.com/NoProblemDiscoPP)

On Friday, start off the fun at the ShowBox Awards, where you can vote for a crazy selection of categories ranging from the conventional to the ridiculous of what's best in PP. Even I (DJ Sequence) am in contention, battling against a desktop computer….plus ca change….(https://www.facebook.com/events/180602085471309)
Code Red is starting to bring in some big names, including Leeroy Thornhill (ex Prodigy). He'll be playing a "mash up of breaks n electro style toons, using plenty of familiar hooks, with a good old skool feel. Heavy on the electro edge and full of funk that rocks the dancefloor." (https://www.facebook.com/events/639626979431041/)
Meanwhile, UK House legend Danny Rampling alongside his wife Ilona  will be spinning their usual loved-up sound as Mr and Mrs Rampling this Friday at Pontoon Pulse. Interesting to see 2 (relativley) big international names on the same night….(https://www.facebook.com/PontoonClub)
At the Terrace, the ever excellent DJ StrangeFruit, will take you on a musical trip thru House, Techno and beyond…no big name DJs, just consistently excellent music. (https://www.facebook.com/events/276685735817389/)
The big event in Phnom Penh on Saturday is WILD – 2 rooms of  House & Techno @the soon to be demolished Riverside Hotel. Loads of DJs playing with (you guessed it) Bart Ricardo, Simon C Vent, Alan Ritchie, Kimchi Collective and many more (https://www.facebook.com/events/721277174583804). PS we'll be giving away 3 tickets on our FB page tomorrow

Meanwhile, if reggae is more your thang then check out the Wat A Gwaan crew who are getting irie down at the NagaHouse in Kampot with DAN LO Meets DJ GiMiX NoMaD  Feat MC KAZTET D. (https://www.facebook.com/events/589447027796085)
Well, if you have any energy after that lot, looking towards next weekend and beyond, the calendar's full of amazing events. As always, please let me know about underground events in PP, Siem Reap, Sihanoukville, Kampot and beyond via our Facebook page or the website.
3 upcoming events to look out for:
On the 4th of Febuary at Otres Barn, catch Cambodia´s one and only Ragga Dub Band….DUB ADDICTION. Original Reggae tunes with Khmer, African and German Raggamuffin MC´s. Also featuring MC Kaztet D of Wat A Gwaan and DJ Kdam (https://www.facebook.com/events/256646454501034/)
Dancin Mantis Records makes it's debut @ Code Red on friday the 7th of february. With Special Guest NAKADIA just back from her tour of Europe, DJ's Rob and Achaya will be playing their signature Vision of Sound set. (https://www.facebook.com/events/575070342586326 )
Finally, on Valentines Day (Feb 14th), check out the SunBodia Boat Party – good vibes, cool people, an amazing sunset and, of course the best in House, Techno and Techhouse from Alan Ritchie ,DJ Donabelle and DJ Sequence (House set). Should be funky. (https://www.facebook.com/events/250593925106845)
As I said at the top, loads of great events happening this weekend – for more details, check our events calendar and remember – keep it underground
PS – Something for your weekend….South London boyz Skream and Disclosure back to back – awesome vibes, awesome mix

Images from HighRise at the Terrace
Cambodia Underground club guide 30th Jan 2014