Dream Injection's first W.I.L.D party (held in the soon-to-be demolished Riverside hotel at the start of February) has proved to be one of the major events in the Phnom Penh clubbing explosion of 2013/2014 – alongside the opening of Code:Red, Pontoon Pulse and the HighRise NYE party.
It's now the end of April, the temperature is rising, the rain is coming and, from the backroom of Vego café on Street 294, the Dream Injection crew are working feverishly in the run up to the second W.I.L.D party on May the 3rd.
I caught up with two of the team, Nico and Selim, to find out a little bit more about W.I.L.D and their views on the past, present and future of the Phnom Penh club scene.
So, tell us a bit about yourselves – what was your background before you came to Cambodia?
Nico: "We're both from a hospitality background. We met about 15 years ago in Lausanne Hotel Management School in Switzerland
We've been in Phnom Penh since July 2013"
Did you have a background in organising parties?
Selim: "In Switzerland, we'd always organised raves – although it was more Psy-Trance. We've always enjoyed doing parties, organising parties and going to parties
We also managed bars and nightclubs in various countries (Switzerland, Holland, France, Singapore, Turkey, Thailand) for several years… so yes; we had an idea of where we wanted to go…"
So why start organising events in Phnom Penh?
Selim: "When we moved to Phnom Penh, we both got full time jobs and used to go out all the time but after a couple of months we'd just wanted something else than what was available in Phnom Penh, we needed some craziness: a dream injection…"
That was 2013 – what's your view of the club scene in 2014?
Selim : "In my view, in the last 9 months, the big players have really stepped up their game (with the opening of Pulse and Code Red). So, in less that a year, we've seen some really encouraging changes. Things are moving in the right direction"
What about the scene outside of the big clubs?
Nico : "There's definitely an underground scene but they really need to push up their quality to compete with the big clubs. The big clubs have got better, so the underground scene needs to step up – not just to compete but also to survive"
So there's a gap in the market that W.I.L.D can fill – between the big clubs and the small underground scene?
Nico: "If you want to put it in purely business terms, then yes"
Selim : "W.I.L.D. is not a business– we are not making money from the parties – that's the least important thing. If we break even, that's great. We all have full time jobs, so if we can save a bit of money and throw an amazing party every 3 months, then that's our reward. We build memories.
W.I.L.D. is more of a laboratory actually: Both the underground scene and the club scene are welcome to contribute. Each of us brings something to the pot, and each of us takes something out of it at the end. Be it in terms of experience, ideas, details, contacts… "
Who is the W.I.L.D team – is it just you 2 guys?
Selim : "Oh no! It's just that we happen to be here for the interview…In the team we also have Alan,Tanguy, Roel, David, Flo. There's Madalina and Lucia doing the costumes. Lots of people helping us with the F&B side – Peter, Greg, Zack, Bruno.
We also try and involve the hospitality training schools as well as the circus training school. All the photographers documenting the event (Nick, Jeremie, Neareay) – all in all there are about 30 people working towards making a great party. I apologise if I have missed anyone out! And I know I have (Narcissa, Jenai, Wesley, Da). Thank you all for the support.
W.I.L.D. is very much a community event. We may be the conductors but without the orchestra, without the people to do all of these things, we are nothing. There are loads of people behind the scene – you don't see them, but they make the magic happen!
Each party we try and make better and we need more people to take ideas from imagination to reality. So we are always on the lookout for new talents and constantly welcoming new members to the crew."
You had your first W.I.L.D party at the start of February – what were your impressions of its success?
Selim : "It was a success, definitely. It was beyond our expectations in terms of attendance.
As individuals we have very high standards, so we'll never say that we are 100% satisfied but in terms of feedback and general response it was very positive"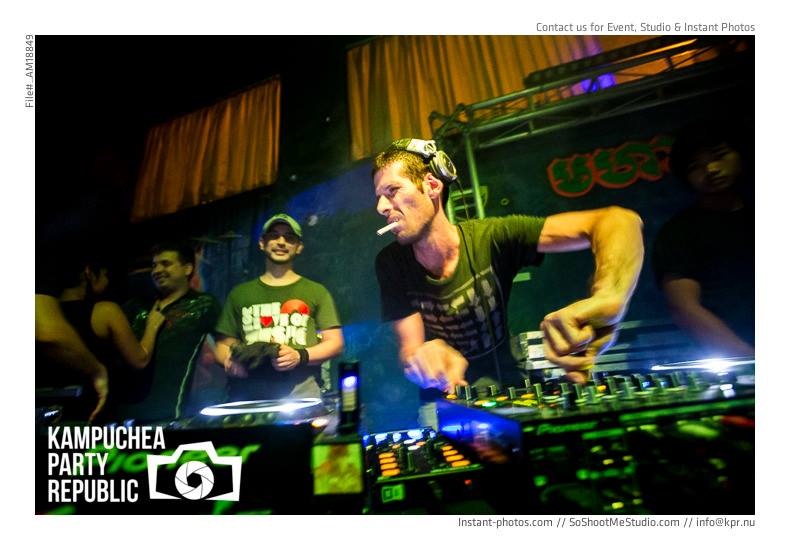 Certainly, there was an amazing atmosphere at the first W.I.L.D party – if I had to criticise, I would say that the sound was not 100% there
Selim : "Unfortunately, the sound of the main floor was really linked to the room itself. Because the room had low sealing and got so packed it meant that the sound was not perfect beyond the first 10 rows (human-wall effect)
In the downstairs floor the walls were a bit shaky so that affected the acoustics.
Last but not least, we are in a country that (unfortunately) still hasn't got the best sound systems for electronic music. The best brands are just still not available in Cambodia."
What about the mix of people? I was surprised at the first party to see so many people that I didn't know – normally you know a lot of people at Phnom Penh parties, but this event was quite different
Selim : "We were surprised about the mix but that's what Dream Injection is about – bringing people that don't always know each other together. We only, in my estimate, had 20% tourists. The rest were dreamers, secretly hidden in Phnom Penh and waiting for an occasion to unite, party, and get W.I.L.D."
What about the "mini-bar", which was staffed by midgets – you got some online criticism about that, people were saying that you were exploiting the bar staff….
Nico : "One word – Integration"
Selim : "I would say to anyone who felt that the bar staff were being exploited to go and see where they work and their current living conditions. They work at Dreamland (amusement park in Phnom Penh) in the Haunted House. After the event, Nico and I went there and it was one of the least humane environments I have seen in a long time.
Have a look at what these guys life is like, and make your own opinion"
Nico : "After Dream Injection, they are getting booked for private parties all over town, which I think is a vastly better situation than they were in before"
Moving to the present, all eyes in the Phnom Penh club scene are on your event on May the 3rd. The main topic of conversation is its location – what can you tell us about that?
Selim : "The party is going to be in an amazing location, only about 16km from Phnom Penh centre. It's going to be an outdoor festival. In case of any rain we have more than enough marquees to cover those that don't like to dance under the rain. People worry about the rain but the rain just wets you – for our guests we worry more about the sun.
The party starts at 4pm and goes onto noon the next day. People can bring their swimsuits and towels because there will be a big place to swim. There also going to be shower facilities – both for after you swim and for when you dance and want to cool down! People can also bring their hammocks with them. There is a cloakroom, so you can safely deposit your bags there.
There will be shuttle transport running every 15 minutes until midnight and every 30 minutes after midnight from the Riverside Hotel, and back!"
What's your policy music wise – I see basically every DJ from Phnom Penh….
Selim : "Not every DJ, no. But yes, we've got a really good selection of DJs – we've also got 3 international DJs – SuperCosi from Japan and 2 DJs from Bangkok – Tim Coates and Saint Vincent who are 2 good friends and will do a back-to-back set.
Phnom Penh DJs are essential to W.I.L.D. Because they understand that this is not a business, and the effort we put in; trying to bring an experience rather than a party. They also make great efforts and bring an amazing energy to the event.
So we'll have 1 main electronic music stage with the DJs and a side stage with some different influences – Reggae, Ragga and HipHop. This gives people who are not into the electronic music to attend an event that is different from the normal Reggae gig."
And there's also going more than just music?
Selim : "We have an international artist called Punkadelik, who has just been working in Australia. He'll be doing UV reactive artwork which has never done in Cambodia"
Nico : "Paul will be doing wicked body painting as well – so get ready to be colourful!"
What are you hoping for capacity-wise?
Selim : "Our first party was about 800 people but we are not running after numbers, we'll see what we get this time – it's not in the centre of Phnom Penh so it's going to be more of a destination event than one you just spend an hour in.
We are trying to offer an experience rather than just a normal party so I hope people will stay. What matters to us isn't really what number of people we welcome, but what experience we provide them with, and what memory they keep from this W.I.L.D. weekend."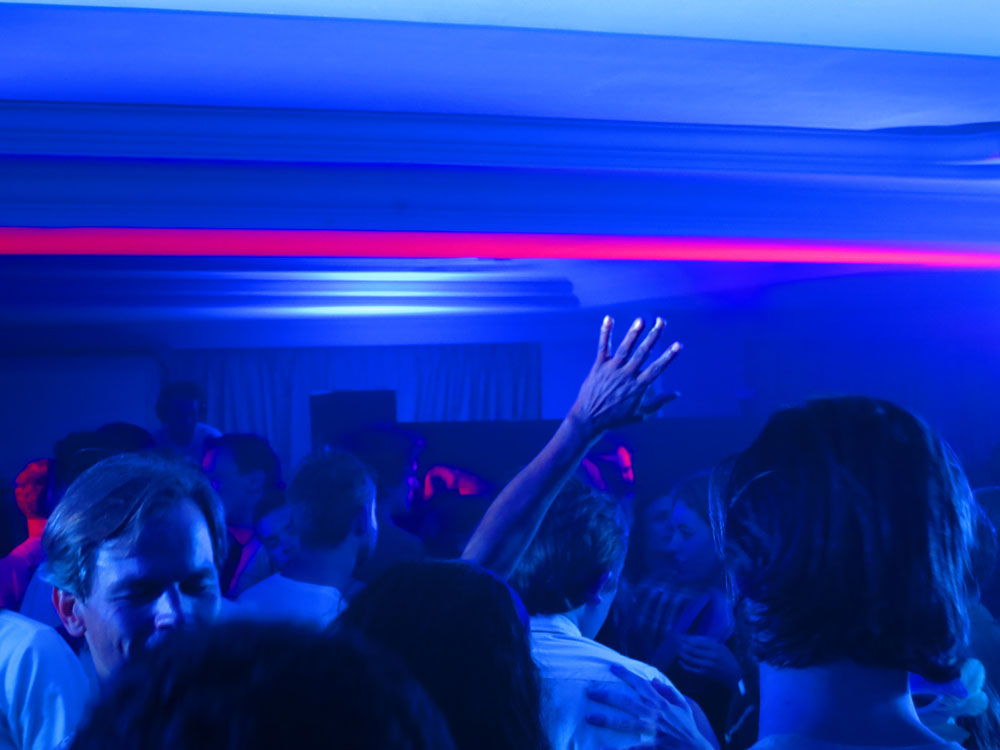 Lastly, what are Dream Injection's plans for the future?
Selim : "Our plan is to stick to doing a W.I.L.D. party every 3 months. Dream Injection is probably going to get involved in other events, but that will be under another banner."
Nico : "Watch this space!"
W.I.L.D 2 is at a secret location to be announced on the 3rd of May. Runs 4pm on the 3rd to 12pm 4th of May.

$10 including transport. Shuttle running every 15 minutes until midnight and every 30 minutes after midnight from the Riverside Hotel

More details at https://www.facebook.com/events/549220381860354
Interview with W.I.L.D organisers Dream Injection