The New Year's Eve party at the then abandoned Bokor Hill Station in 2003/2004 has attained legendary status as one of the best parties ever seen in Cambodia – at a time only 5 years after the death of Pol Pot and the final dissolution of the Khmer Rouge.
However it's always been difficult to find any documentary evidence of the party – until a chance conversation with one of our favourite DJs, Tim Coates, resulted in the discovery that not only was he one of the main organisers of the party, but that he also had a treasure trove of photos from that night as well as from the infamous Sauce parties that flourished in Phnom Penh in the early 2000s.
Tim kindly took the time to tell us all about that night in Bokor as well as his experiences in the first wave of the Cambodian Scene….
Tim Coates (r) on the decks at Bokor
What was your initial connection with Cambodia?
I came here as a backpacker in 2000 and was staying in Sihanoukville, on Victory Hill. I was staying at a place called BedRock and I played the couple who owned it one of my mixtapes from when I'd been DJing in Sydney in 99-00. They really liked it and said that they'd like a DJ to start working with them, doing parties on the beach.
Party at Nexus, Phnom Penh, early 2000s
What was Sihanoukville like in 2000?
It was a complete ghost town. Tumbleweed blowing down Sokha Beach! Victory Hill had a bit of development with a few expats but not much else.
Wash&Spin Party, Phnom Penh, early 2000s
So you started doing beach parties?
I came back in September 2000 and started the parties – but within a month, we'd been shut down for making too much noise. So a friend of mine asked me if I'd like to set up a bar on Serendipity – which literally had one hot-dog stand on it, owned by a guy called Chuck, who was the person who named the beach. The Golden Lion roundabout existed but there wasn't even a road down to Serendipity – just mud and rocks with a stream running down it.
So we opened up a place on the first plot on the beach called Limbos. I had my turntables, mixer and records flown over from the UK and we started doing monthly parties and the occasional Full Moons.
After the word got round that we were doing something good in Sihanoukville, I was contacted by a bunch of crazy French guys who were doing parties in Phnom Penh.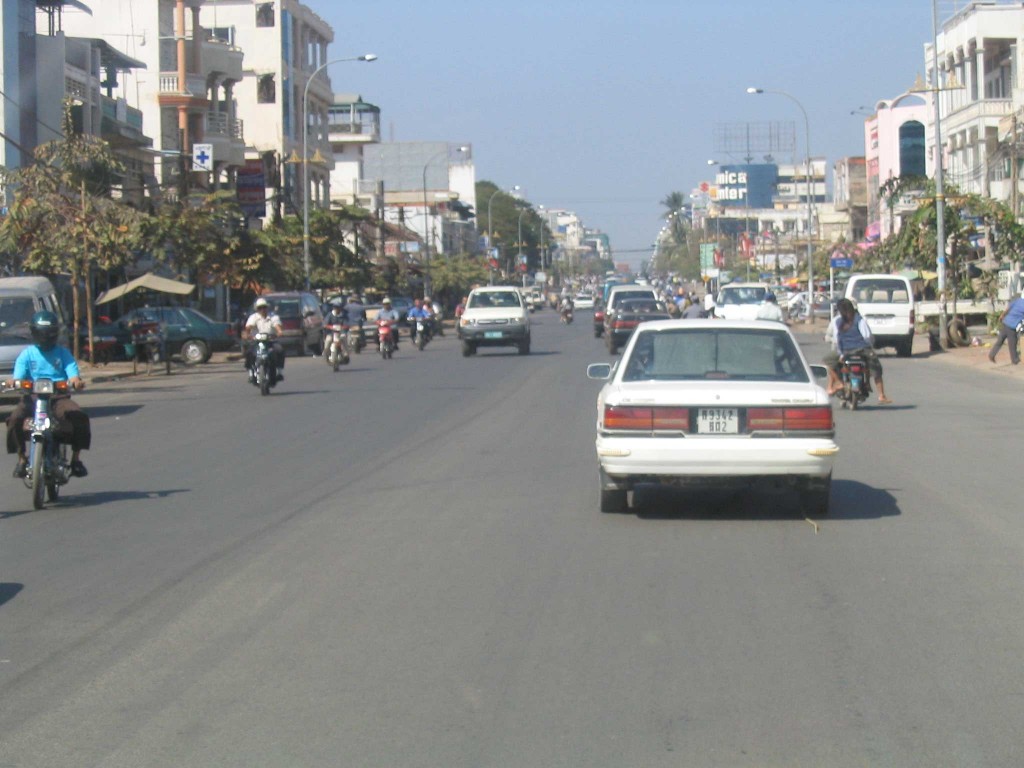 Phnom Penh street scene, early 2000s
What was Phnom Penh like at the beginning of the 2000s?
Completely different. The roads were empty, No street lights, no traffic lights. There was still the lakeside…
In terms of nightlife, there was nothing. Heart of Darkness, Howies Bar, The Zoo – which was an old colonial building.
So this group of people who liked proper parties and dancing said "we better do it ourselves", they called themselves The Sauce and every 2 or 3 months in different locations, they would throw awesome parties.
For the first one I was involved in, which was in a big house towards the airport, they called it "White Night" and they hired a snow machine. The garden was covered in 2 inches of snow – which no one in Cambodia had seen before!
The Sauce Party, Phnom Penh, early 2000s
What was the mix of people at these nights?
Anyone who was going out in Phnom Penh in this period – which was probably about 1000 people – would come to these parties, because there was nothing else going on in town. You get Khmers, expats, backpackers – everyone.
In the group of organisers, you had designers, people who worked in construction and, through my friend Mikus we had a marketing connection so we started to get sponsorship – which meant that all the parties were free.
There were some other small parties and a few things like Nexus on Sihanouk Boulevard but our main focus was these Sauce parties.
We did the one at the Mansion House, one on an old casino boat on the Tonle Sap. One at the TV studios. We were meant to do one in the Railway Station, but the authorities pulled the plug, so we had to do it in a bowling alley on Mao-Tse-Tung, which wasn't quite so impressive…
Bokor Hill Station
So tell us about the infamous Bokor party. (For readers outside Cambodia, Bokor Mountain is situated near Kep in the south of Cambodia and is home to the abandoned hill station and casino that was featured in the Matt Dillon movie "City of Ghosts")
At the end of 2003/4, we were starting to wind the Sauce parties down as a few people had moved away and I was approached by Lenny – who I ran Limbos with and Philippe – who had a guesthouse on the Lakeside, who said "let's do a proper NYE party down in Bokor". People had tried before, but they'd never been done well.
So we went up and spoke to the chief of Bokor, told him what we wanted to do and we were away.
Preparations for Bokor NYE
How did you promote the night? Was it just people from Phnom Penh you were aiming at?
We wanted to do a big, big party, so we had Khmer kids in Phnom Penh handing out flyers on rollerblades. We did 10,000 flyers and 1000 posters and handed them out in every guesthouse, every bar, every internet café in town.
We asked friends who were going to Thailand to flyer in Koh Chang and even Khao San Road (in Bangkok). We were trying to push Cambodia as somewhere where you could have a bit more freedom than neighbouring countries and could have a proper party.
Unscheduled pit stop on the way to Bokor
What was access up to Bokor like?
Depending on your level of competence it took about an hour by van or bike. There was no real road – just broken stones. Even to get to Kampot was a trial. The day we went down to Kampot with our equipment, one of the bridges on the way was broken. Now bear in mind that we've got flat-bed trucks full of equipment – the generator, the sound equipment, the bar and all the supplies etc etc.
We all got out and thought "Oh my God". There was no other way to Kampot and we'd spent 2 months planning this one night. An hour later though, a guy waltzes up with a can of oxy-acetylene, cuts down a support and rigs up something that, in true Cambodian style, looks dangerous but works!
Chillout area in the basement below the Ballroom
Talk us through the preparations on the ground
There was nothing in Bokor, so, as I said, we had to bring everything down ourselves.
There were a lot of logistics involved – we needed artists, we needed labourers, we needed brushes, brooms, toilet paper. Knowing it's very cold up there at night, we had to hang banners across the empty windows. We needed absolutely everything.
We decided to make the main ballroom into the main dance floor, which I guess kind of fitted. We cleared the rubble out of the room below the ballroom and made it into a chill out room with mats, hammocks etc.
We set up the sound system, we had to tie speakers to the columns of the casino with wire but eventually everything was in place.
Weirdly enough when we were setting up, we were playing a particular tune and suddenly the building and environment started to resonate – it was really bizarre….An engineer friend who was there realised that we had hit on the specific resonant frequency for the building. It happenned once again in the party but luckily everyone was too far gone to notice!
People start to make their way up to the campsite
What were your expectations for a crowd?
We had no idea what to expect – at sunset there were quite a few people, so I went for a shower and got back to the main room at about 7 and was amazed. It was packed. Because there was no internet, no smartphones – just a big room with music and people dancing and having fun, everyone was proper going for it – hands up in the air.
I walked over to the decks and I said to my mate Mikus, "take off the mix CD and start playing – it's going to be one of the most fun nights you've ever had"
DJs in the mix at Bokor NYE
So what was the line up?
Myself, Mikus and Ashley Damiral, who'd flown especially over for the night with all his vinyl.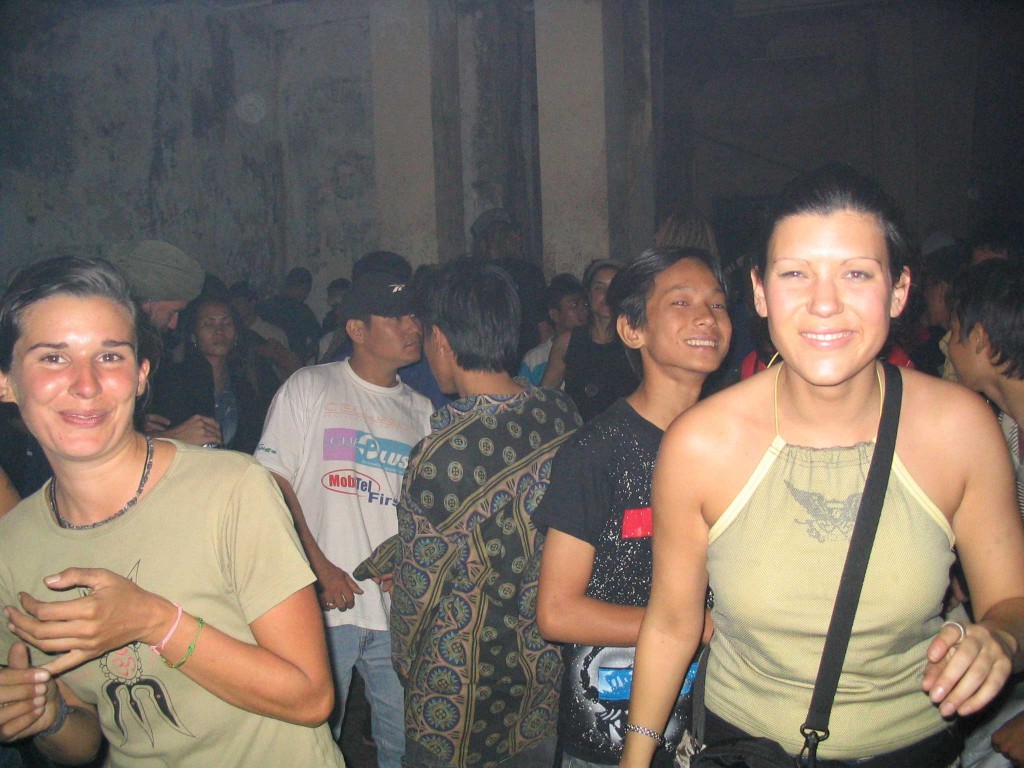 Crowd at Bokor
What was the blend of people on the night? Looking at the photos, I'm seeing a good mix of Khmer and Westerners.
Probably a 50/50 blend. The Khmer guys would come up and say "what music is this?" "House Music" we told them.
I reckon we had about 1000 people. We had about 400 foreigners who paid (and a few more who sneaked in) and about the same amount of Khmers. It was $3 for foreigners, $1 for Khmer but I don't think we actually charged any Khmers. People came from Thailand, England, Vietnam, Sri Lanka – all over. We ended up losing a couple of hundred dollars but you can't buy that experience. It's priceless.
Its was so nice to see a party where everyone got on – no egos, no idiots, just a good time.
Had the film "City of Ghosts" (which features a party held in the same location) come out yet.
It came out a year before – in fact Matt Dillon came to the "Simply White" party in Phnom Penh. People were trying to capture him in compromising positions, but it was fine!
New Years Day Sunrise at Bokor
Were you involved in the next NYE party at Bokor?
I had left Cambodia by then – I loved the country but there were no real opportunities to DJ and so I left for KL in February 2004.
Friends of mine decided to continue the party. I think there were more people but unfortunately there was a big incident. I don't know the exact story, but I believe there was an incident over something stupid like a car not dipping their headlights quick enough and 2 opposing bodyguards ended up shot dead.
Tim Coates in action in 2014 @ Phnom Penh Underground 1st Birthday
You've seen the Cambodia dance scene from it's infancy in the early 2000s, right up to 2015. How would you compare the two?
Now's really interesting. Cambodia used to have a reputation as the Wild West – now its got a different image, the infrastructure has improved and entertainment is following that.
Places like Code Red are pioneers in getting proper underground dance music into Cambodia and hopefully that can continue.
But to make a scene, I think we need 3 clubs doing regular nights playing interesting music. You've got Code, sometimes you've got Pulse and a few other small places like the Rooftop and MetaHouse, but we need consistency.
I think that people look for short term solutions, rather than trying to look towards a longer term growing of the scene, like clubs like Glow in Bangkok have done. Its taken them about 5-6 years to become what they have but they have looked to the long term.
But I think Cambodia is in a good situation as a lot of people are getting a bit wary of Thailand, due the current military crackdown and the harassment, so Cambodia has a real chance to benefit from that. It's a much more relaxed country, so I think a lot more people are going to come here.
How it grows is another question. A lot of stuff in Phnom Penh is focused towards commercial EDM, but when that bubble bursts, what are they going to do.
But if you introduce the deeper types of music to people slowly – Techno, Drum and Bass etc then people will get into it.
When I had a bar in Sihanoukville, I stuck on the MetalHeadz (pioneering DnB label) box set to wake myself up. One of the Military guys came over and I asked him if he liked it. He turned to me and said "It excites my head", which I though was a lovely reaction. People love the deeper, non mainstream things if you just give them a chance.
Massive thanks to Tim Coates for taking the time to speak to Phnom Penh Underground and supplying the amazing pictures!
Back in the Day: We speak to organiser of the legendary Bokor 2003/4 NYE party, Tim Coates