Welcome back! Our first club guide of 2014 appears a little late – quite frankly we're all still recovering from the madness of the Phnom Penh Underground presents High Rise NYE party, which was just about as epic a party as you'll see in PP. Pictures and a video are up on the site, so you can relive the crazyness
Ok, so lets have a look at this weekend – too many nights to fully mention here, so just the highlights – for the full line-up, check our events calendar
The big news on the PP clubscene is the soft opening of Code Red this thursday (exclusive interview with founder Eddie Newman here) They're kicking off proceedings with DJs Bree, Stroke and the excellent Alan Ritchie. Full opening is on friday, but come and check out whether Code lives up to the hype! (https://www.facebook.com/events/272164599598358/)

Our Friday pick has to be the Two Night Stand Part 1. Over 2 nights, the cream of the capital's DJs will be playing at the intimate Backstage Bar. Kicking off on friday, you've got the TechHouse sounds of Jack Malipan (No Problem Disco) and Simon C Vent ( Drop Dead Disco) winner of the 2014 The Advisor poll. Free Entry as well! (https://www.facebook.com/events/640532892677034)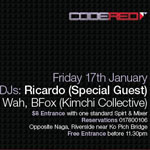 Code Red kicks off with its full opening with special guest Ricardo (Belgium) alongside locals, Dr WahWah and BFox (Kimchi Collective). Free before 11.30/$8 afterwards. (https://www.facebook.com/events/1413856958853020)
The Two Night Stand continues with two more of Phnom Penh's finest! Catch DJ Sequence playing the finest in Drum and Bass, ably supported by the TechHouse stylings of StrangeFruit. Free Entry at the Backstage Bar (https://www.facebook.com/events/640532892677034)
Meanwhile, down in sleepy old Kampot, the NagaHouse crew ae shaking things up with the mighty crew of MC GOBSHITE / MC KAZTET D / DJ PRODUCER POLAAK / DJ KDAM playing Khmer tunes | ragga | hip hop | drum n bass. Great music, beautiful surroundings – whats not to like? (https://www.facebook.com/events/479449062174688)
Looking towards next weekend and beyond, the calendar's full of amazing events. As always, please let me know about underground events in PP, Siem Reap, Sihanoukville, Kampot and beyond via our Facebook page or the website.
The big night to look out for is the return of Phnom Penh Underground presents HighRise at the Terrace. 
After the mega success of NYE, we're ready to give you the very best of Phnom Penh's DJs – no past it "International DJs" looking to supplement their pensions, just the cream of the city's underground talent.
Already confirmed are 2 of PP's finest – DJ Sequence and Simon C Vent. Watch out for it on the 25th of January
Also worth checking for next week are nights from the Wat a Gwaan Reggae crew as well a beat iconoclasts Swagger
As I said at the top, loads of great events happening this weekend – for more details, check our events calendar and remember – keep it underground
PS – Something for your weekend….Someone who never needs to rest on his reputation….Jeff Mills

Cambodia Underground Club guide 16th Feb 2014