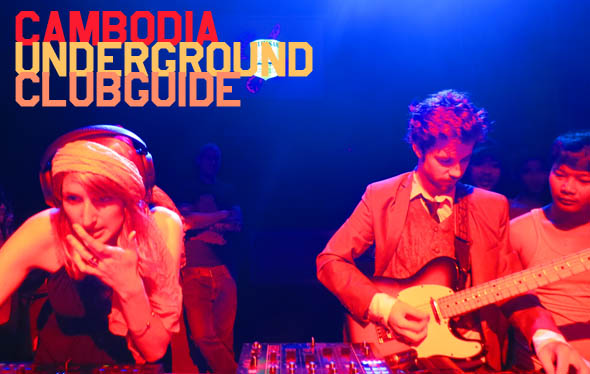 We've just had an amazing weekend…Highlights have to be Masia One & DJ Rumshot and local rudeboys Wat a Gwaan who bought pure positive vibrations to Code. Further afield, all the way down in Kampot, Phnom Penh faves Drop Dead Disco and The Kimchi Collective rocked the NagaHouse. which we hear was packed to the rafters.
Also, if you don't know, we released Phnom Penh Underground Volume 4 this week. Mixed by the best dressed man in Phnom Penh, Mr danbeck, its a totally awesome blend of twisted house, dark nu-soul, electro, techno and just about anything else you can think of, mixed into one delicious sonic stew! Listen and download it below.
[soundcloud url="https://api.soundcloud.com/tracks/159964619″ params="color=ff5500&auto_play=false&hide_related=false&show_comments=true&show_user=true&show_reposts=false" width="100%" height="166″ iframe="true" /]
Ok, so lets have a look at this weekend – too many nights to mention here, so we're going to concentrate on the one-off nights – for the full line-up with all the fantastic regular nights, check our events calendar.

| | |
| --- | --- |
| | Friday sees the grand opening of the eagerly anticipated Duplex in St 278. We're really excited to see a quality EDM centred venue and bar opening up at last in BKK1 and predict big things for the future. Catch Bluesabelle, Illest and Shaman Vs Phil for the opening shindig…https://www.facebook.com/events/275811445958577 |
| | |
| --- | --- |
| | More Bounce to the ounce at Meta House where DJ Spectrum and MC Chalky White will give you "the best jungle anthems, full on sound system visuals, lasers, creating an experience that will make you bounce the night away"…Sounds awesome! https://www.facebook.com/events/1522598024626949/ |
| | |
| --- | --- |
| | Over at  CodeRed, Its a Red Alert with the excellent DJ Bree & Rakky-Z. Pure Hip Hop, Dancehall, R&B, Trap, Funk & Soul. Its free before midnight or if you are dressed in RED. Always a packed night with a great atmosphere! https://www.facebook.com/events/1448658675394418 |
Last, but certainly not least, the very talented (and very tall) Tim Coates (alongside the equally talented, but not so tall Mikus) return with their superb monthly night, Nudism. Expect "

a dose of stripped down grooves and the pulsating gritty bass of deep house infused with a raw edgy Gangsta vibe…

" https://www.facebook.com/events/344044349083170
| | |
| --- | --- |
| | Finally, make sure you check out the always excellent Tech Lounge at Pontoon Pulse where DJ Flo and guests keep the Techno fires burning all night long until 5am with the very finest in underground sounds. We don't often mention this weekly night but its always a cracker and well worthy of your support! |
| | |
| --- | --- |
| | On the 15th of August, the mighty Wat a Gwaan collective of Sir Alan Ritchie, Kaztet Dee and DJ Bree will be bringing some Urban Bass to the MetaHouse. Expect Digital Dub, Dubstep, Grime, DnB, BreakBeat, UK Funky, Electro and a whole lot more! More details and a facebook link when we get them! |
As I said at the top, loads of great events happening this weekend – for more details, check our events calendar and remember – keep it underground
PS – In anticipation of what promises to be a legendary night, here's a little look at what you can expect from Krafty Kuts @ CodeRed
Cover image – Java and Stitch last ever performance @CodeRed . Picture taken by Sequence

Cambodia Underground Club Guide 31st July 2104