For the last week or so, we've been running a little poll via FaceBook, with the simple question -"What do YOU want to hear in Phnom Penh clubs".
We were prompted to do this by noticing that over 60% of the events listed in our event guide were House nights and wondered if that truly reflected clubbers tastes…
Over 125 of you guys took part – we set the poll up so that you were only able to vote once and we're confident that no one abused the system…
Finally, after a lot of number crunching, we've got the results. We don't claim this to be the definitive be all and end all of Phnom Penh clubber's opinions in any way at all but its an interesting insight.
We're presenting the results in 2 ways – firstly just a straight listing of the results, with sub-genres listed individually – so Minimal Techno gets its own separate listing from Techno for instance. Note that all values are percentages
As you can see, Techno, even without it's sub-genres narrowly beats Drum and Bass with Dub/Reggae making a strong showing. I've never personally seen a dedicated Dubstep night in PP  but it picks up a strong 4th position over House.
At the bottom, we've got a madly varied bunch – even down to the person who says "Anything but House!"
Our second and possibly more representative view puts all sub genres together into a main genre – so TechHouse/DeepHouse/Semi-Detached house, whatever all count as "House". Amything that got under a certain threshold gets lumped into "Other"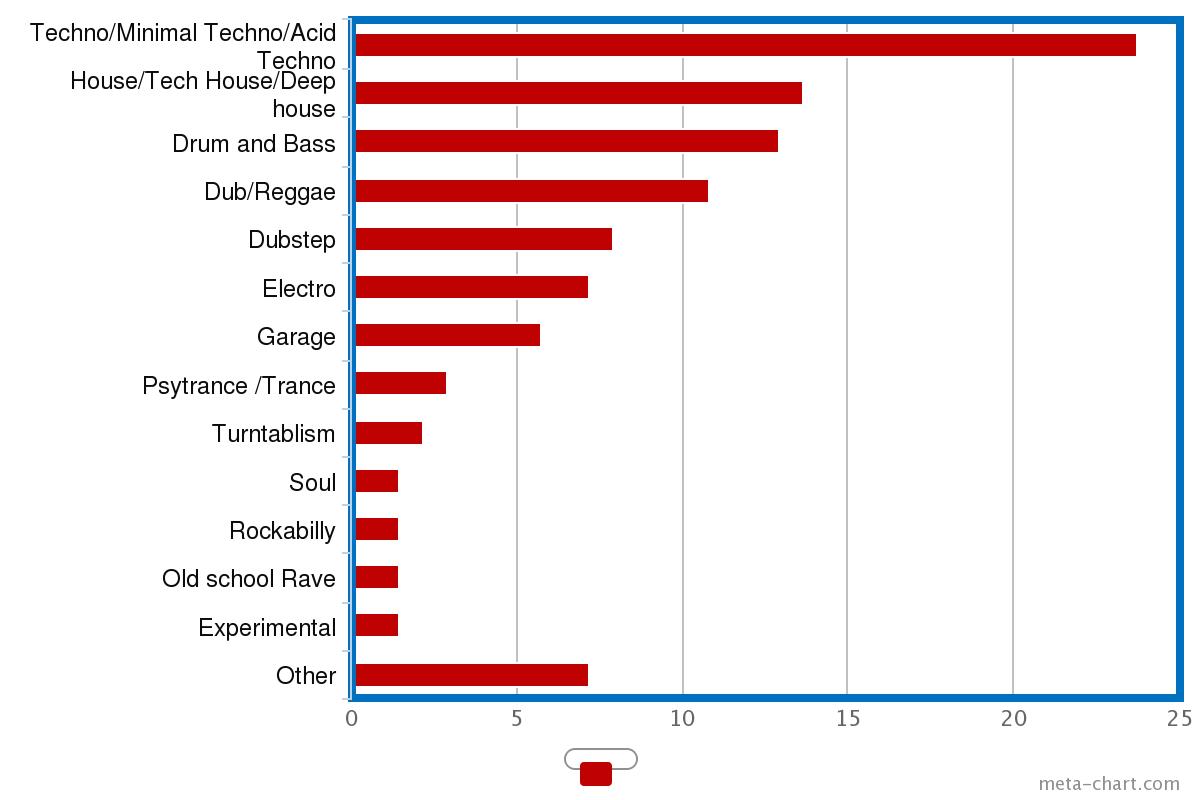 Once again, Techno rules the roost but House's sub-genres brings it up to a strong second position over Drum and Bass and reggae/Dub
So what does this all prove? Somebody once said "Lies, damned lies, and statistics" but I think we can safely conclude that you guys – the clubbing public are asking for some more varied styles to supplement the amazing scene we have at the moment.
Lets keep the awesome House nights (and we have some truly gifted House DJs in this city –Funkelastiks, Simon Vent, Alan Ritchie and many many more) we have but bring in more Techno, more Drum and Bass, more Reggae (though I know the Wat A Gwaan crew are doing some amazing stuff!), some Dubstep , some Garage.
Maybe there's even space for the person who asked for Tribal Soul – I've never heard of it but I bet you somebody is grooving to it in Phnom Penh right now.
The key is diversity – we have a group of unique artists in the city, so lets work together, whatever our styles and grow this thing. Peace out
PS, here are the full results in a spreadsheet for all you Excel Headz!
| | | | | | |
| --- | --- | --- | --- | --- | --- |
| All Genres | | | | Genres put together | |
| Techno | 15.11% | | | Techno/Minimal Techno/Acid Techno | 23.74% |
| Drum and Bass | 12.95% | | | House/Tech House/Deep house | 13.67% |
| Dub/Reggae | 10.79% | | | Drum and Bass | 12.95% |
| Dubstep | 7.91% | | | Dub/Reggae | 10.79% |
| House | 7.19% | | | Dubstep | 7.91% |
| Electro | 7.19% | | | Electro | 7.19% |
| Minimal Techno | 7.19% | | | Garage | 5.76% |
| Garage | 5.76% | | | Psytrance /Trance | 2.88% |
| Tech House | 5.76% | | | turntablism | 2.16% |
| Psytrance /Trance | 2.88% | | | soul, | 1.44% |
| turntablism | 2.16% | | | Rockabilly | 1.44% |
| Acid techno | 1.44% | | | Old school rave | 1.44% |
| soul, | 1.44% | | | experimental | 1.44% |
| Rockabilly | 1.44% | | | world club | 0.72% |
| Old school rave | 1.44% | | | independent hip hop | 0.72% |
| experimental/ | 1.44% | | | hardcore hardtek | 0.72% |
| Deep house | 0.72% | | | grime | 0.72% |
| world club | 0.72% | | | Funk, | 0.72% |
| independent hip hop | 0.72% | | | disco | 0.72% |
| hardcore hardtek | 0.72% | | | chill out/ | 0.72% |
| grime | 0.72% | | | anything but house! | 0.72% |
| Funk, | 0.72% | | | ambient | 0.72% |
| disco | 0.72% | | | tribal soul | 0.72% |
| chill out/ | 0.72% | | | | |
| anything but house! | 0.72% | | | | |
| ambient | 0.72% | | | | |
| tribal soul | 0.72% | | | | |
| | | | | | |
| | | | | | |
| | 100.00% | | | | 100.00% |
What do YOU want to hear in Phnom Penh poll results